Let's make your home's largest part your smallest worry.
A planned maintenance program for your garage door will protect your peace of mind
With most things in life, ignoring small issues can lead to big headaches down the line. Your garage door is no different, and neglecting it can lead to expensive repairs as time goes on. By becoming a Planned Maintenance customer with Adams Door, we nip any issues in the bud before they become dangerous and/or more expensive to address. Keep your mind at ease knowing that our experts will make sure your door will work when you need it.
What's included in your Program
Our services go above and beyond to keep you protected and give you peace of mind. Our program includes each of the following benefits:
Complete safety inspections on up to three garage doors and garage door openers in your home
Thorough inspection of all nuts and bolts by our trained technicians for defects
Maintenance lubrication of all rollers, pulleys and cables.
Spring adjustments
Complete service on electric door openers, which will include chain tightening, setting limit switches, and lubrication of the whole drive mechanism.
Free check and replacement of keypad and transmitter batteries
When completed, all safety issues and needed repairs will be provided in writing
We'll review the task list with you and provide you with an additional copy, with service receipt included
Service technician will discuss all necessary repair and/or replacement suggestions with you before departure
Benefits Included
Not only are you protected with your planned maintenance program, you will also enjoy these additional benefits with Adams Door:
10% discount on all repair service throughout the year
Elevated status to Priority Customer
Complete equipment replacement discounts
A guarantee that your safety will be improved, and equipment's life will be greatly extended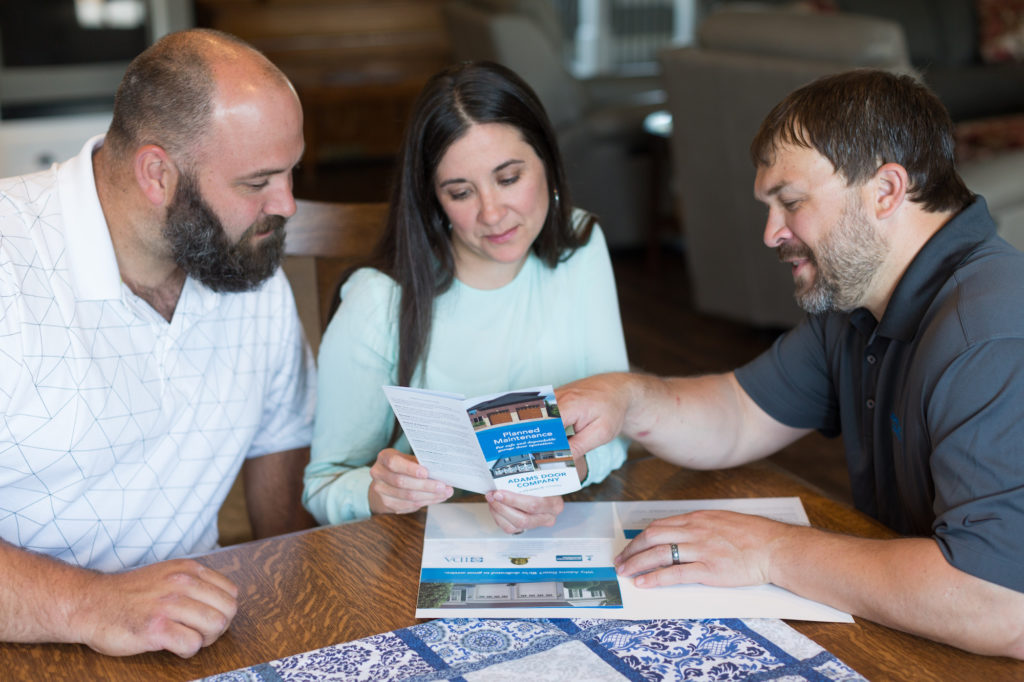 Give your home's look the lift it deserves
Experience our unmatched service and discover the latest in garage door technology, including styles and materials you won't find anywhere else in Des Moines.
Have Questions?
Contact us with any questions you have about purchasing a new garage door in Des Moines.
Ready to serve when you need us
Adams Door is a full-service garage door company in Des Moines that's dedicated to providing the people of Central Iowa with long-lasting garage door solutions.
Our garage door specialists are experienced, professional, personable, and prepared to provide same-day service to help you overcome any problem your garage door may face.
Every one of our team members is carefully trained and never subcontracted. We understand it's a privilege to work in your home, and it's our promise to show you, your home, and your time the respect they deserve.